The Phoenix Zoo: A Drive-Through Solution To Support The Animals
Schedule Now!
Head to the official zoo website to get your tickts!
Get Your Tickets Here
Learn More
Getting Involved
Cruise The Zoo
a Drive Through Experience
With businesses opening up, and the city sprouting back to life, the Phoenix Zoo has made a drastic change to maintain operations. With a drive through experience being a new option, individuals can help the Zoo maintain operations and drive by all your favorite habitats.
The Phoenix Zoo has opened its gates to your very own mini-van drive through tour. While going through the process, there are a variety of aspects that made this experience very fun and easy.
 Upon arriving at the property of the Zoo, you will be met with a full staff of workers guiding and directing traffic the entire time. With stop and go signs allowing the movement of traffic, you will not be able to miss a turn or go the wrong way.
As soon as you enter the park, you will start to see the signs explaining the rules of the road. With some animals being sensitive to sound, it is requested that cars travel as quiet as possible to minimize the disturbance of the animals. 
 Remember this is as new for us as it is for them!
 After your first turn, you will get to the audio tracks and the snack distribution station. 
Need To know! 
Tickets (including food, beverage and photo options) must be pre-purchased online. There will be a limit of 450 tickets sold per day.  
Once a limit is reached on a particular day, interested guests must select another day.
Tickets can be used anytime beginning at 7 a.m., but the last vehicle MUST be in line at 11 a.m.
Vehicle size must be no larger than a full-size long bed truck. Max vehicle specs are: 266″ L x 81″ W x 74″ H.
Pop-Corn & Lunch
Right at the start, you can pick up your popcorn and lunch to enjoy while you drive through the park. While other restaurants and usual snack carts are closed, the staff has provided a rapid solution with hot dogs, popcorn, chips and soda. During the check in process you will get your snack ticket which can all be sorted out online before you get to the Zoo.
An Audio Tour Experience
With over 12 audio tracks that are available for free on soundcloud, families can hear a guided tour while driving through the Zoo. Each section has its own sign. This alerts the passengers to start the next audio track. With amazing content, it provided a lot of information that even long time residents may not know about!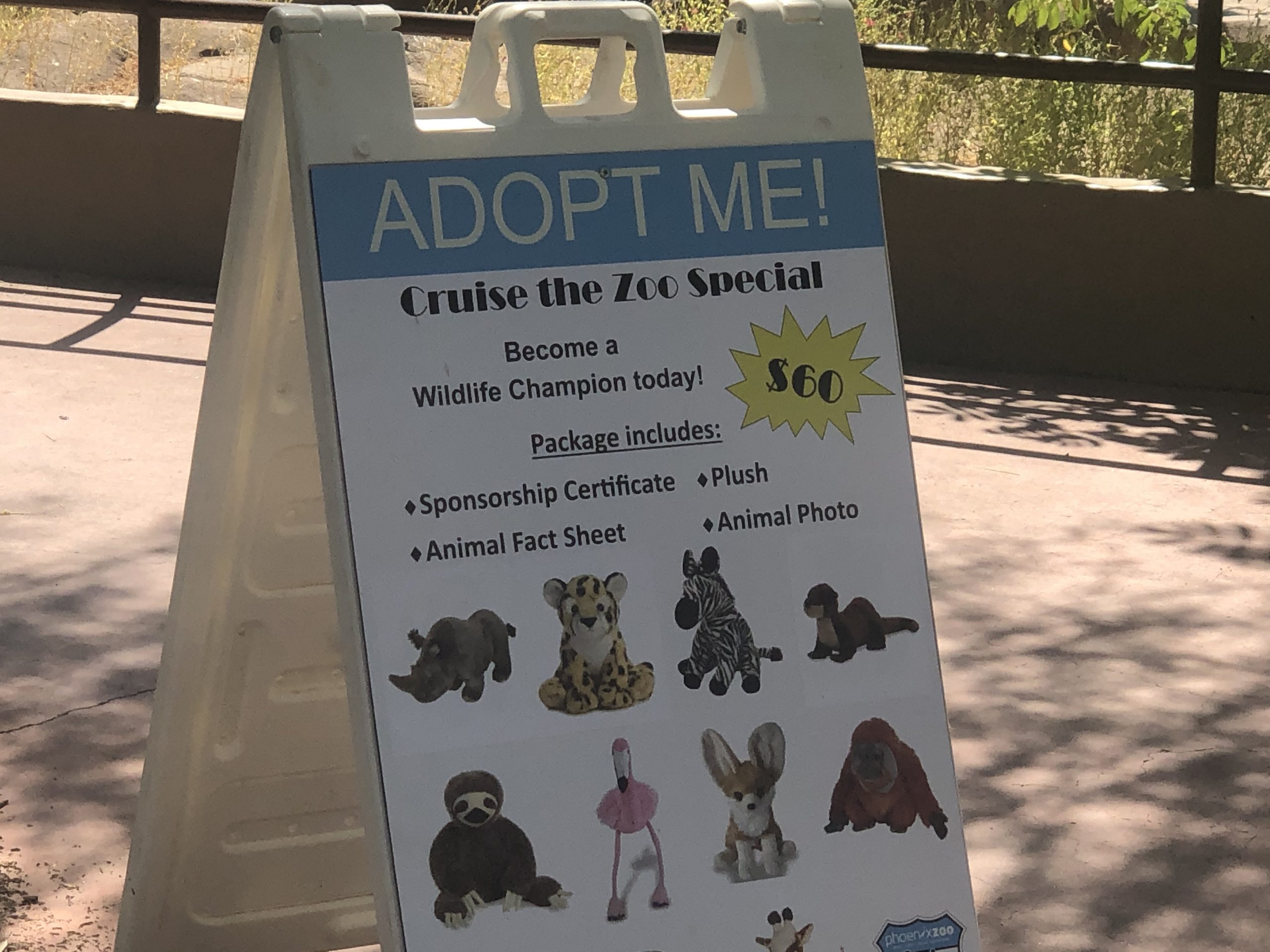 What Your Ticket Purchase Does For the Animals-
The Mission
Rescuing animals
The Phoenix Zoo operates solely on the support of the public and through donations. This business solution helps the Zoo make 5,000 meals each week and continue conservation efforts for species that are listed close to endangered.
Achieve Sustainability
By supporting the Zoo and purchasing a drive through ticket, you are helping the Phoenix Zoo sustain itself during the current situation brought on by Covid-19. It is important to help our local establishments bounce back to life after months of restrictrictions.
Providing Shelter
The Phoenix Zoo cares for over 3,000 animals at any given time. While it is not possible to experience up close encounters with the most popular birds and snakes, this is a necessary precaution for the public and the animals to stay safe.
Research and Development
The zoo has a variety of conservational programs that help endangered species or animales that are becoming endangered. Your ticket purchase allows the Phoenix Zoo to continue in their efforts of conservation and preservation. 
Get Involved
 With hope of returning to normal in the coming months, the drive through option is the best way we can all enjoy the Zoo and stay safe during these life changing events. 
 Volunteer Today–